Want to make a delicious latte at home? Try this homemade salted caramel syrup that is perfect for coffee. It's easy to make and only requires a few ingredients.
This shop has been compensated by Collective Bias, Inc. and its advertiser. All opinions are mine alone. #SKSHarvest #SeasonalSolutions #CollectiveBias
I normally drink hot tea in the morning. It's been my morning drink of choice since I was a kid. My favorite is earl grey with milk and sugar.
I do enjoy coffee though, especially on a cool evening. I often find myself getting in the habit of getting a coffee out. They are delicious and it's quick and easy but there is a lot of waste, cost, and mystery ingredients.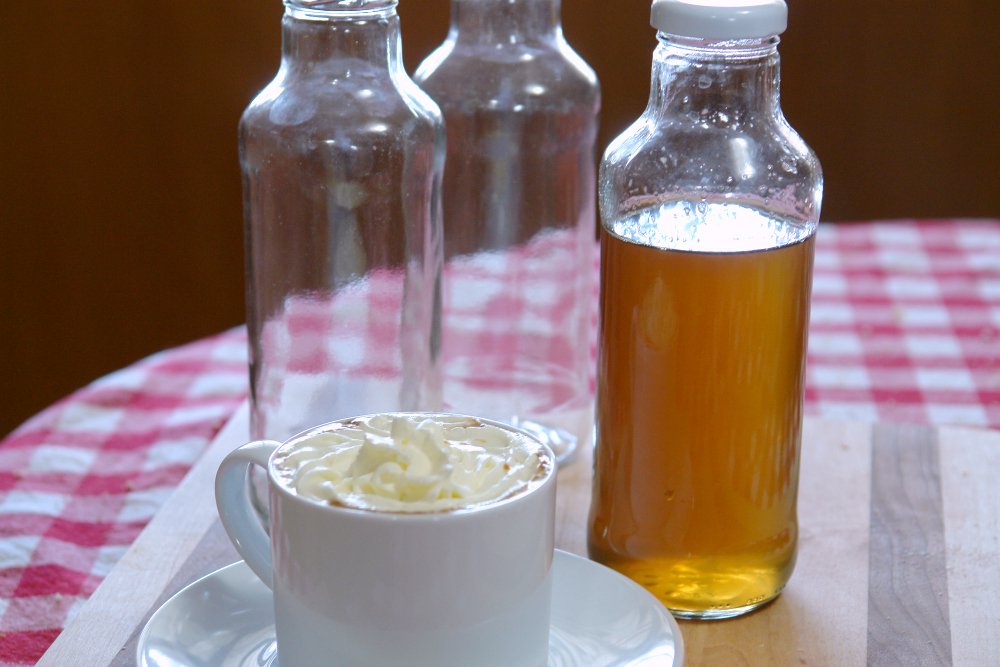 Hover over this image to shop for the glass bottles I used!
I have found that when I make really good quality, french pressed coffee at home I don't feel the need for as much sweetener as you find in coffees you get out. Espresso-based drinks can often have more of a bitter taste that needs to be covered up with sugar, unlike french press coffee which isn't burned.
It is still nice to be able to have fun flavored coffee though. I've tried some of the naturally flavored coffee syrups and most aren't that exciting. The ones that taste best aren't very natural.
I decided to try and make my own instead, that way I had control of ingredients and could experiment to find a great flavor. The one we are enjoying right now is salted caramel coffee syrup. It's delicious and it's pretty easy to make. It's also perfect with a slice of coffee cake.
To store my syrup I used SKS Clear Glass Beverage Bottles w/ White Metal Plastisol Lined Lug Caps. They were very affordable and work perfectly for this recipe.
These glass bottles filled with some salted caramel coffee syrup would make great holiday gifts for a coffee lover. Just add a cute tag, throw in some delicious coffee and you have a wonderful gift.
I really liked ordering from SKS Bottle and Packaging. They offer over 6,000 containers and closures online. They everything from blue, amber, and clear glass bottles to green, amber, and natural plastic bottles and jars. It's a great place to check out when creating some DIY projects and gifts.
One of the things I really like is most SKS glass jars are made in the USA and are 100% recyclable. That's something that is very important to me.
It was really easy to order the bottles. The website is easy to use and includes all of the information you need.
The bottles came quickly and were well packaged so nothing was damaged. It was also very efficient packaging, while everything was well packed there wasn't extra unneeded packaging and waste involved.
I'm really happy to have found SKS Bottle and Packaging. I'm sure I will be ordering more in the future. I'm also excited to come up with more projects for the SKS Clear Glass Beverage Bottles I purchased for this recipe. They are perfect for sauces, dresses, and more so I'm sure I will find many uses for them.
Now that you know a good option for how to store and/or give this coffee syrup as a gift, it's time to learn how to make the recipe.
Yield: 1 bottle
Salted Caramel Syrup
A sweet and delicious salted caramel syrup that works perfectly for making lattes and other coffee drinks at home.
Ingredients
1 cup sugar
2 cups water
1 teaspoon vanilla extract
1/2 teaspoon sea salt
Instructions
In a small sturdy pot, combine sugar and 1 cup of water.
Stir over medium heat until sugar dissolves.
Stir occasionally until it comes to a boil. Stop stirring but watch carefully, the caramel can go from perfect to burned quickly.
Watch for the caramel to turn a light amber color. Once this happens, remove it from heat immediately.
Very carefully add the second cup of water, it can splatter so use caution.
Stir in vanilla and salt.
Allow to cool and then pour the salted caramel syrup into your glass bottle.
Add 1 to 2 tablespoons of salted caramel syrup to 8 ounces of coffee.
Store salted caramel syrup in the refrigerator for up to a couple of months.
Notes
This is not a caramel sauce, it's a caramel syrup so it's more of a maple syrup consistency.
Be sure to check out
SKS Bottle and Packaging
for all your DIY needs. You are sure to find the type of container you need.
More Delicious Recipes