Try an old-fashioned 7up ice cream float recipe for a fun soda fountain treat at home! Includes lots of great flavor combinations to try.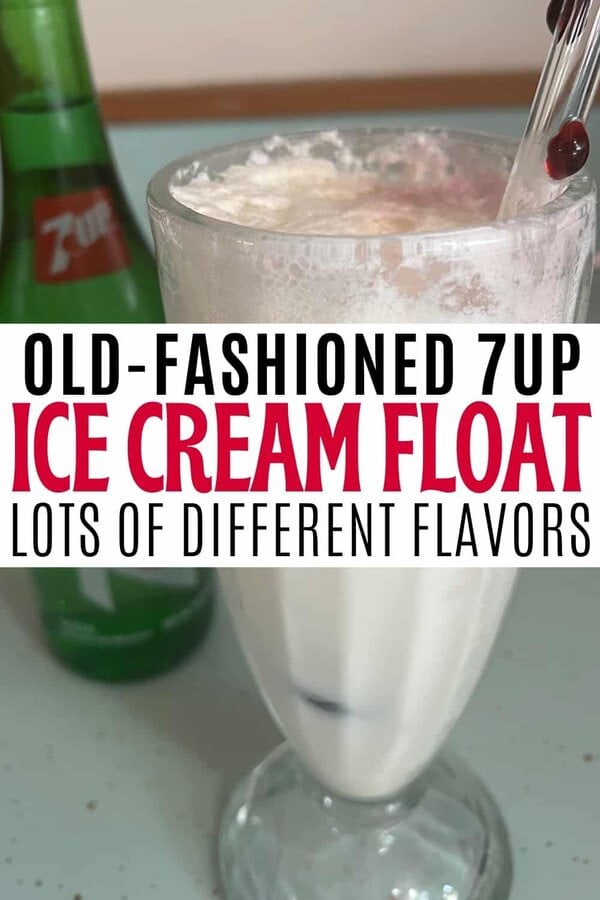 In a hurry? Check out the 7up Ice Cream Float in video form!
One of my favorite things to do is go to an old-fashioned soda fountain. They are getting pretty rare these days but when I can find one I love it!
The next best thing is to recreate a soda fountain at home. I feel like I've been doing this most of my life. My grandma has a couple of vintage malt machines and made me countless chocolate malts when I was a kid.
I also grew up making ice cream floats at home and also chocolate cokes (that recipe is coming soon!). It's getting hard to find ice cream floats out and even when you do they are often made with soft serve and not real ice cream, and it does make a difference.
Lately, I've been seeing some people making floats on social media and it's clear we need to talk about a real old-fashioned ice cream float because they aren't being made correctly. I'm sure they are still good and if it's what you like, go for it but it's not the real thing.
People are taking soda with ice and just dropping a scoop of ice cream on top. I'm sure it tastes nice but if you don't drink it fast it will be watered down and the ice is going to keep the ice cream from melting and mixing into the soda as well. It's just not the same. And the history of the ice cream float shows why you should really skip the ice for the real thing.
The History of Ice Cream Floats
It's thought that the ice cream float was invited by a man named Robert McCay Green in Pennsylvania in the 1870s during the Franklin Institute's semicentennial celebration.
The story is that it was a hot day and Green ran out of ice for the flavored drinks he was selling so he used vanilla ice cream instead.
In the April 1921 issue of The Soda Fountain, there is a great story about the start of this new drink.
"Both ingredients, long known but never combined until 1876, when Robert M. Green invited this "novelty" at Centennial Exposition in Philadelphia."
While soda fountains have been around since the late 1800s, they gained a lot of popularity during Prohibition since bars were no longer an option for socializing, at least legally.
Now we tend to associate soda fountains with the 1950s and if you find anyone still around they tend to be decorated in that style. And we see a lot of soda fountain drink recipes in 1950s cookbooks and magazines.
The 7up Ice Cream Float
7up ads in 1950s magazines often featured 7up ice cream floats, like the one above which was in an issue of Better Homes & Gardens in 1956.
This 7up ad suggests 7up and chocolate ice cream, orange ice, or lime sherbet as delicious combinations. I've seen dozens of combinations suggested in ads and recipes and since 7up has a pretty mild taste there really are a lot of options.
Today I'm going to share a very simple version of a 7up ice cream float made with vanilla ice cream and topped with a cherry. But these are some other combinations you can try.
Chocolate Ice Cream
Cherry Ice Cream
Lime Sherbert
Orangesicle Ice Cream
Strawberry Ice Cream
Pistachio Ice Cream
Whichever flavors you choose it's sure to be a wonderful vintage summer treat!
Yield: 1 Float
7up Ice Cream Float Recipe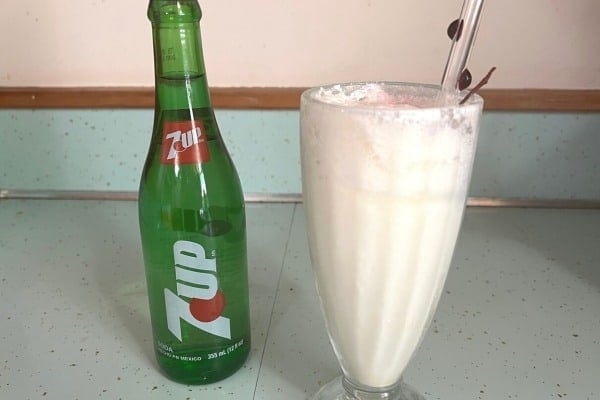 Make a simple 7up ice cream float to enjoy on a warm day with friends!
Ingredients
2 scoops vanilla ice cream
7up to fill the glass (cold)
cherry (optional)
Instructions
Place your ice cream in a tall glass. It's best to chill the glass.
Add enough cold 7up to fill your glass, go slow it will fizz.
Top with a cherry and enjoy!
Recommended Products
As an Amazon Associate and member of other affiliate programs, I earn from qualifying purchases.
More Delicious Vintage Recipes