Cake
3/4 cup sugar
6 tablespoons butter
1 egg
2 cups flour
2 teaspoons baking powder
1 teaspoon salt
1 teaspoon cinnamon
1 cup milk
Streusel
1/4 cup sugar
1 teaspoon vanilla extract
1 tablespoons flour
1/2 tablespoon cinnamon
1 tablespoon butter, melted
Directions:
Preheat oven to 350°F
Grease a 8″ square pan.
In a medium size bowl, cream the sugar and butter.
Beat in the egg.
In a small bowl, mix the flour, baking powder, salt and cinnamon.
Slowly add the flour mixture and the milk to the butter mixture, alternating.
Combine all of the streusel ingredients in a small bowl and stir until blended.
Spread half of the cake batter in the pan, spread streusel on top and spread rest of cake batter on top.
Bake in oven for 35-40 minutes.
Let cool before icing.
Spread the cream cheese icing over the top.
Cream Cheese Icing
Ingredients
3 oz cream cheese, softened
3/4 cup powdered sugar
3 tablespoons milk
1 tablespoon butter, softened
1/2 teaspoon vanilla extract
Directions
In a small bowl beat all ingredients until smooth.
I started making this for the morning of Thanksgiving a few years ago. You can make it ahead and everyone loves it. It also helps keep people from asking non-stop when lunch will be ready.It would be great for Christmas morning as well. Not the healthiest breakfast but very yummy!
This post is part of Leanne Penny's Cookie Exchange.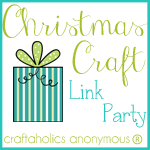 Recipe adapted from- http://www.food.com/recipe/quick-cinnamon-coffee-cake-188828